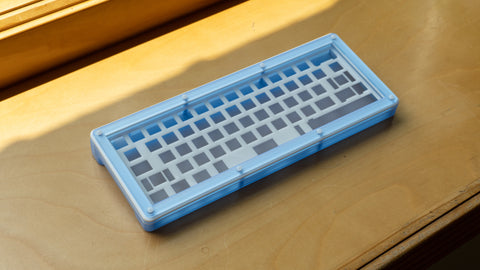 60% Acrylic Case
This laser cut acrylic case is designed for most standard 60% PCBs.
The case is designed around the USB port being placed in between the "esc" and "1" key. If your PCB has a different location, please note that in the "Custom Requests" section.
If you plan on using a 60% PCB with a USB-daughterboard, please make a "Custom Request" when placing the order.

***WOOTING 60HE ORDERS***
If you plan on using the Wooting 60HE PCB, please be aware that you will need to get the KBDfans countersunk/flat head screw kit. You will receive an edited-plate from Wooting's original plate, which will require you to use the kbdfans standoff kit to keep the plate and PCB held together the proper distance. This kit can be purchased from KBDFans or some USA-located vendors, such as KeebsForAll, Divinikey, DangKeebs, etc. 
Specs:

7 main case layers and stand layers

High profile case
5-6 degree typing angle

SMK logo on bottom layer

What's Included?
Acrylic case layers
Hardware
Hex tool
Rubber feet
What you still need to complete the build?
At this moment, this sale only includes the case and case hardware. All other components should be sourced from other vendors.
PCB
Cable (check the PCB you buy to know which kind, most of the time you'll need a USB-C)
Keyboard switches (MX style)
Keycaps
Pickup currently unavailable
Lead Times
Custom Case Commissions: 4-6 weeks (orders with metal plates may take longer)
Other laser cut products: 1-2 weeks
In stock items: 3-5 days to ship
Disclaimers
All sales are final and there are NO refunds or returns on this item.
Acrylic colors are also subject to being unavailable or sold out and may take additional time to complete your case order.