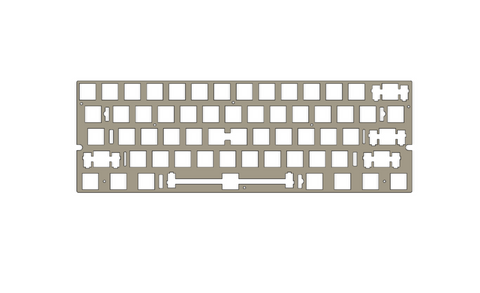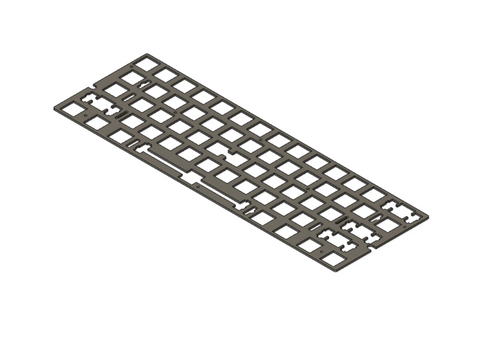 Wooting 60HE Keyboard Plate
Our custom plates for the Wooting 60HE is perfect to improve the sound of the original keyboard.
Easily switch out the plate to improve typing experience and sound of your Wooting 60HE.
Metal plates will be 1.5mm thick (the same as the original plate)
Plastic plates such as POM, PETG and Impact Modified Acrylic are 1.5-1.6mm. Please be aware of this before ordering. I personally have not had any issues with the plate-mounted stabilizers or the Lekker switches not "clicking" into any plastic plate materials, your usage may vary. I have tested all materials I offer, and they all have worked without issues. 
Please keep in mind you may have to adjust the 'actuation point' within the Wooting software, to account for a slightly (0.1mm) thicker plate. I personally did not notice any difference, and did not adjust my actuation point. Your usage may vary.

If you want to see the most per-key RGB lighting, Clear PETG, Clear IMA and White POM are the best materials to allow the light to pass through.
In order for this product to work with the Wooting PCB, you will need to purchase the KBDfans hotswap standoff kit. Without this kit, the plate will not be "attached" to the PCB, meaning you can nudge and/or lift the plate out of place. There are a few US vendors of this product. I usually use the countersunk screw on the underside of the PCB and the flat head for the top side of the plate. 
Like most all pre-made keyboards in our hobby, I highly recommend lubing both the stabilizers and switches of the Wooting 60HE.
My favorite plate material to use for the 60HE + tray mount case, is a POM plate. 
Sound tests:
This product will only include a single, 60% keyboard plate, custom for the Wooting 60HE. 
Product photos are just renders and do not reflect a specific material option.
Pickup currently unavailable
Lead Times
Custom Case Commissions: 4-6 weeks (orders with metal plates may take longer)
Other laser cut products: 1-2 weeks
In stock items: 3-5 days to ship
Disclaimers
All sales are final and there are NO refunds or returns on this item.
Acrylic colors are also subject to being unavailable or sold out and may take additional time to complete your case order.